Lifestyle Medicine
An increasing proportion of the common illnesses and disabilities experienced in today's Britain are caused or worsened by our unhealthy lifestyles.
The good news is that, many conditions can be improved, reversed or prevented by appropriate changes to our lifestyle.
This has given rise to the new specialty of Lifestyle Medicine and Temple's Dr Sam Robson certified as a Lifestyle Medicine Physician (Dip BSLM/IBLM) at the end of 2020. Temple Clinic was proud to win Society's award for "Health and Wellbeing" in 2020.
The starting point will be a comprehensive evaluation of your current health and lifestyle. Relevant blood tests and other appropriate investigations will be conducted in tandem with an assessment of your body composition.
The body composition provides details of your percentage body fat, skeletal muscle mass, fat and muscle distribution around the body, visceral fat levels and basal metabolic rate.
A detailed evaluation will be conducted with regards to your diet and nutrition (with a food diary completed before your first visit), your patterns of physical activity, your sleep and your stress levels.
A personalised plan will be formulated and follow up will be arranged. There will be comprehensive information available thorough webinars, blog, information sheets and internet links with regard to how you can work to improve your fitness and lifestyle. When appropriate we can refer you on to a specialist nutritionist and advise on local facilities to optimise your physical activity.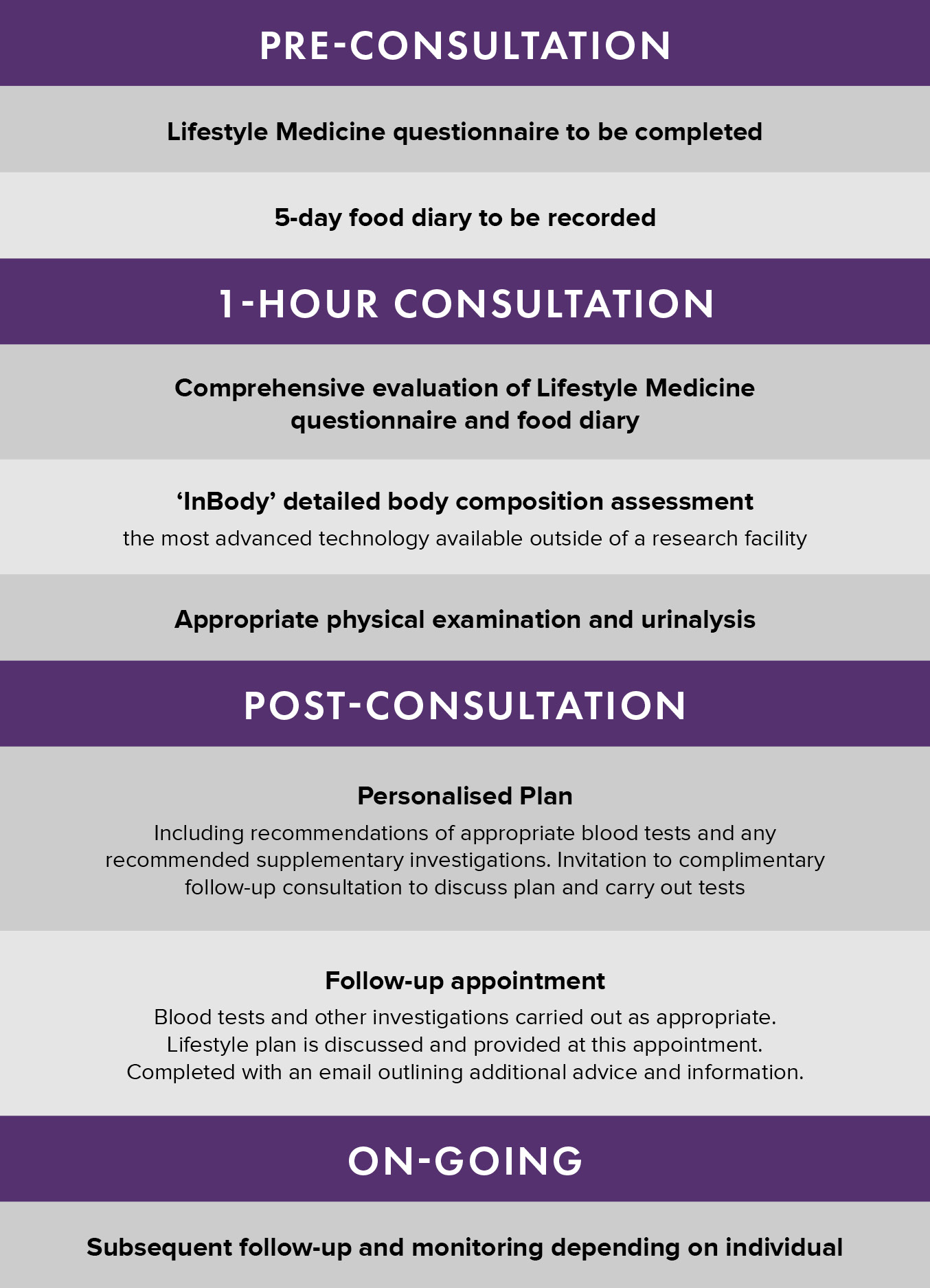 We aim to cater for people at all levels of fitness and well-being, from elite athletes to people who feel thoroughly unfit and/ or unhealthy. The aim for all is to enhance health and well-being, to improve or prevent disability and to help you to feel as fit and healthy as you possibly can.
Fill out the form on this page to send us a message with your questions, or why not arrange a virtual consultation or assessment today.