Wrinkle Relaxing Injections

Temple Clinic stands out as Aberdeen's go to Medical Clinic for wrinkle relaxing injections, ensuring that you're in expert hands with Medical Director Dr. Sam and Aesthetic Nurse Sophie.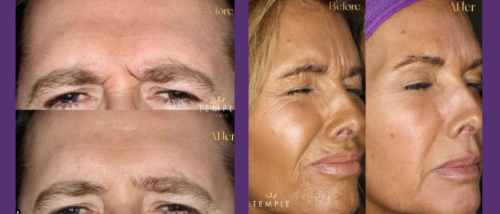 With a wealth of years of experience we comprehend the nuances of the process. Our aim is to diminish the visibility of lines and wrinkles, unveiling a rejuvenated version of yourself.
Our approach delivers subtle, non-invasive, and enduring results. Your first step is to schedule an initial appointment for an Aesthetic Consultation. During this session, we will delve into your concerns and the specific outcomes you desire. If you wish to go ahead your treatment can be done within your consultation.
WHAT HAPPENS AT MY APPOINTMENT?
Following an initial consultation to discuss the aims of the treatment, risks, side effects and downtime you will be asked to sign a consent form and photographs will be taken of the area prior to being treated. Your face will be cleansed and treatment performed(takes around 10 minutes). After care advice will be given and a review appointment arranged for 2-4 weeks' time where further treatment may be provided if required.
HOW LONG DO THE RESULTS LAST?
Typically results may last up to 3 months although this can be affected by lifestyle (exercise, diet, alcohol, smoking and sun exposure), skin quality, metabolism, autoimmune conditions and medications. Over time, some patients report results lasting longer sometimes 4-6 months – each patient will make their own mind up as to when they require further treatments but we would recommend between 3-6 months to achieve long term benefits of Botox.
WHERE ARE POTENTIAL TREATMENT AREAS?
Frown line(s)

Crow's feet

Dimpled/pebbled chin

Forehead lines

Sagging chin line

Décolletage/chest treatments

Excessive sweating (hyperhidrosis)

Raising mouth corners

Gummy smile correction

Softening and narrowing jawline

Bunny lines treatment

Lifting nose tip

Teeth grinding

Softening 'smoker's lines

'
WHAT SHOULD I DO AFTER TREATMENT?
Full aftercare advice will be given at your appointment but generally avoid massaging your face or having a facial (for up to one week) and avoid alcohol or exercise for 24hrs following treatment.
Do move your muscles for the next ½ hour (as you remember) to encourage the muscles to take up the toxin. Go back to your normal life – there is no downtime!
WHEN SHOULD I START HAVING TREATMENT?
Wrinkle Relaxing Injections are for when you notice that you have lines / signs of ageing that you don't like or when you notice that your resting face is showing an emotion that you don't feel – like looking angry or having lots of lines when you are concentrating. Wrinkle Relaxing Injections enable you to be more proactive about slowing down the ageing process and stop the lines from becoming more permanent. Wrinkle Relaxing Injections can be the ideal treatment for you if you feel you are beginning to see lines on the upper face when you are relaxed. This treatment enables you to be proactive in slowing down the ageing process and can improve the appearance of existing static lines over time.
HOW MUCH DOES IT COST?
Prices start from £160 for one area (depending on which practitioner you see)
WHEN WILL I SEE RESULTS?
You may start to see the results almost immediately – you can feel the difference before you see it – but usually between 3-7 days. Final effects will be seen at 2 weeks (which is when we review and tweak if required). Over time, patients report results occurring more quickly, within a few hours or days rather than taking up to 2 weeks to get the full effects.
WHO WILL I SEE?
Dr. Sam Robson, Medical Director
Sophie Ritchie, Aesthetic Nurse
WHAT IS INCLUDED WITH THE SKIN VITALITY CONSULTATION?
The Skin Vitality Consultation with Dr Sam Robson, is an in-depth skin health assessment which includes:
A full skin analysis using the latest technology from FotoFinder

Comprehensive evaluation of your current skin health

Lifestyle and health assessment

Discussion about any skin concerns

Our in-depth analysis allows us to look at areas of the skin that cannot be seen by the human eye. We look at 6 different aspects on the surface and below the skin, including wrinkles, breakouts, pores, skin tone evenness, texture, dehydration, sensitivity and pigmentation from overexposure to the sun.
Following your consultation:
You will be emailed a detailed plan including a skincare product regime specific for your skin and a bespoke treatment plan devised by Dr Sam Robson.

A selection of samples will be chosen specifically for your skins needs

Lifestyle and dietary recommendations

Follow up email with a complimentary skin review
This appointment is 45-mins to 1-hour and priced at £99.
WHAT IS INCLUDED WITH THE SKIN ASSESSMENT?
The Skin Assessment with Dr Sam Robson, is a shorter 30-minute express appointment which includes:
Evaluation of skin health
Discussion about suitable treatments/products
May include small selection of samples
Email from Dr Sam with treatment/product costs and recommendations
This appointment is 30-mins and priced at £50 (can be redeemed against cost of treatment or products).
How do I know if this is the best treatment for me?
If you want to find out more about any of our treatments, book in for our free 1:1 virtual pre-assessment with Dr Sam Robson. This is done via Zoom where we can discuss what treatment is right for you and give you the opportunity to ask any questions. Book your free pre-assessment today.