Temple Kickstart
Kickstart your weight loss journey!
If you are interested in changing your body composition – and not just necessarily to lose weight – Kickstart is for you. You could be someone who goes to the gym but is not getting the results you want in terms of weight loss or muscle build, you may have a significant event or milestone coming up where you want to look your best, maybe you had a health scare and want to improve your lifestyle or it might just be that you are getting older, have fallen into unhealthy eating patterns and are not as active as you once were.
Whatever the reason, we will help you get to where you want to be.
SO, HOW CAN YOU HELP ME?
Dr Sam will assess where you are at, what you need to do differently and monitor your progress along the way.
WHAT WILL I GET?
Prior to seeing Dr Sam, you will be asked to keep an (honest!) 3-day food diary. This will let us see your food likes and dislikes as well as your eating patterns so we can tailor a nutritional plan based on your preferences. You will also get:
InBody profile
This tells us about your body composition
Nutritional plan
Tailored to your goals and preferences
Nutritional guidance
How to navigate choices at supermarkets and restaurants as well as social events and how to tailor recipes at home
Fitness assessment
Identifying what you can do already
Fitness programme
Establishing a routine you can stick to
Reviews
Every 4-6 weeks to monitor your progress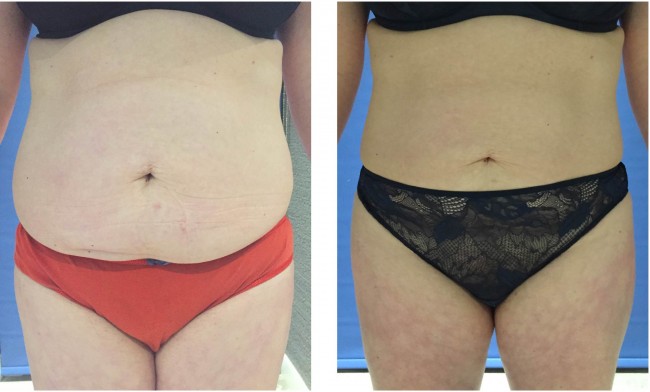 Kirsten lost 8kg and reduced her body fat from 32% to 26% after 4 months with Kickstart
WHAT ABOUT THE FITNESS?
Exercise is important but we will focus on what you can do already and the facilities available to you. It's important that you have fun, as research shows that you are more likely to factor in exercise if you enjoy doing it. We will help identify efficient exercises for you and the InBody profile will show us the areas you need to work on.
HOW MUCH DOES IT COST?
Our Basic Kickstart plan is £99. This includes your InBody profile, nutritional plan, fitness assessment, personalised lifestyle programme (covering diet, exercise, sleep and stress management) and information and guidance to boost your motivation and will power.
On-going reviews will be every 6-8 weeks and are priced at £75. We can also advise on body contouring treatments to further enhance your results. If you decide to add one of these packages, you will receive a complimentary review at the end of your course of treatments
Kickstart your life and make a fresh start today!
Enquire today to arrange a consultation or call us on 01224 869997.
Free webinar
Access our free information webinar and Dr Sam Robson will personally explain the programme in under 10 minutes.

Temple Vie is only ever available to a very small number of participants at a time. Our next intake is opening soon so don't hesitate!