Acne Clinic
Start your journey to healthier skin.
Acne is a common skin problem affecting 85% of all people at some point in their lives. However, more than 20% of adults have active acne and we see many patients in their 30s and 40s who feel they should be past this stage of having 'teenage skin' and can be quite distressed by it.
Regardless of how old you are, or how many spots you have, we know that acne can have a significant impact on self-esteem and confidence.
At Temple Clinic we treat a wide range of acne conditions every day and are an ARA UK accredited treatment centre. Find out more below and send us a message to book an acne consultation today.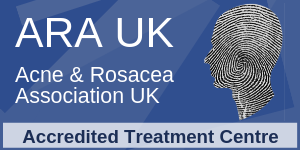 WHAT IS ACNE?
Acne is a hormonal condition that affects the sebaceous glands in the skin.
These sebaceous glands in the follicles of the skin become overactive and over- produce sebum. The dead skin cells and the sebum form a plug and blocks the follicle. Bacteria that live on the skin – and which are usually completely harmless – can then infect the plugged follicles. This can cause the surrounding skin to become inflamed and painful, and produce pus, leading to spots, nodules and cysts.
WHAT HAPPENS AT MY APPOINTMENT?
Everything starts with your consultation where we can discuss the history of your skin, what products and treatments you have tried and whether anything has helped. We take photographs and apply sophisticated software which gives us an in-depth analysis of your skin. This will guide us in our treatment recommendations and what products would help. We will then discuss your treatment options and make a plan with you that will aim to improve your skin health and start you on the journey to clearer skin.
WHICH TREATMENTS DO TEMPLE CLINIC OFFER FOR ACNE?
LED Light Therapy (Omnilux)

Skin Peels

Skin Needling

PRP

Skin Boosters

Lustre pure light for home treatments

Bespoke skin products to use at home
HOW MUCH DOES IT COST?
There is no charge for the initial acne consultation, however there is a £50 booking deposit which is redeemable against products or treatments.
WHEN WILL I SEE RESULTS?
Sometimes your skin can get worse before it gets better but usually we would expect your skin to feel better within a few days. It can take several weeks to notice a significant visible improvement, this is mainly due to the natural time your skin takes to heal. Other factors such as stress, lifestyle choices, diet and hormones will also influence the appearance of your skin.
WHO WILL I SEE?
Dr Sam Robson - Medical Director